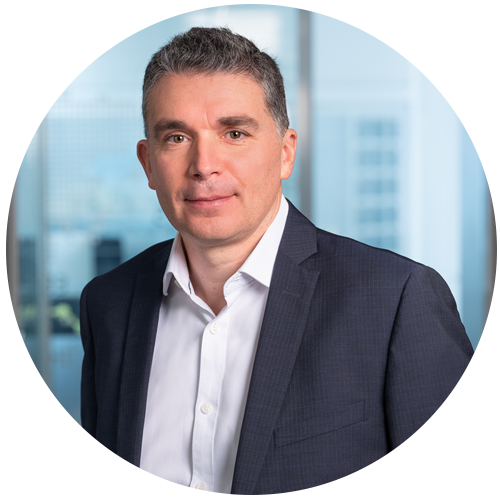 Olivier Kaeppelin
Associé – Business & IT Consulting
« Improving accelerating client experience, speeding up licensing processes, integrating new distribution channels, adapting products to the user economy, modernising tools and internationalising operational models are just some of the many, wide-ranging challenges facing the financing industry today.
Our team  has solid experience of industry practices,  processes and financing tools can help you foster an independent strategic outlook and support you in the implementation of projects.»
Teamwill's consulting practice can assist banks, specialised financing companies and automotive captives in defining and implementing credit strategies in both business and IT: launching new products, developing digital paths, implementing partnerships, optimising processes, redesigning or establishing the information system internationally, and managing projects.
With expertise in both the credit and finance sector, Teamwill's consulting team is truly unique. Our experts are hired for their knowledge of the credit industry and experience in the relevant sectors, consolidating and adding to their knowledge over time. At Teamwill, most consultants have spent their entire careers in the finance sector. Together, this expertise gives Teamwill extensive knowledgeof the Financing ecosystem as a whole (clients, solutions, partners) and enables the team to bring substantial added value to the credit value chain.
We hire and train our teams in the following areas:
Loan products (personal and business loans, car financing, leasing, long-term leasing, factoring)

Management of the Front to Back credit value chain processes (Distribution, Score, Licensing, Management, Collection, Litigation, Accounting, Risk, Compliance, Regulatory)

Knowledge of market solutions (software packages, architecture, etc.) and organisational models of credit channels
Expertise across the value chain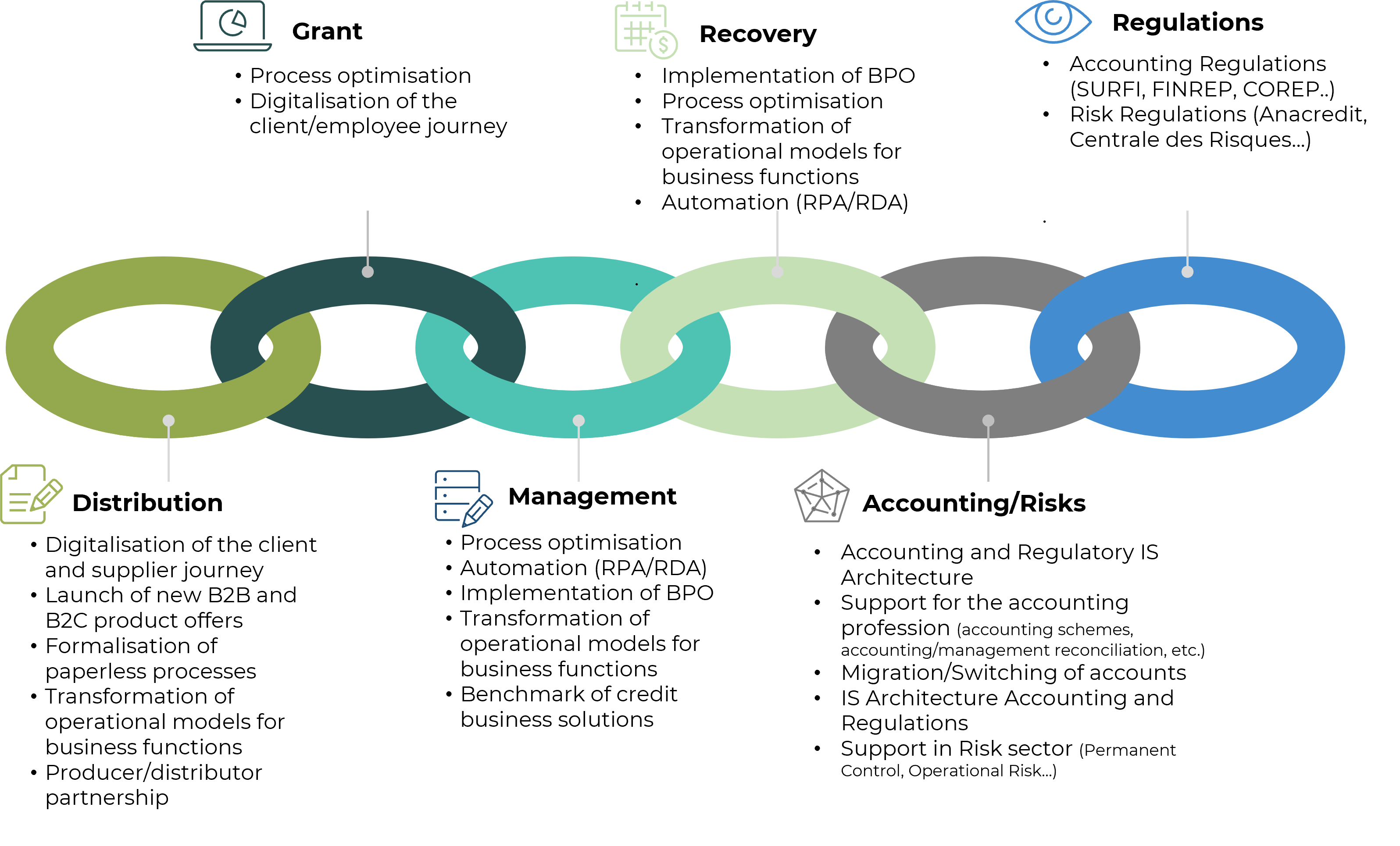 Teamwill Consulting
What makes us unique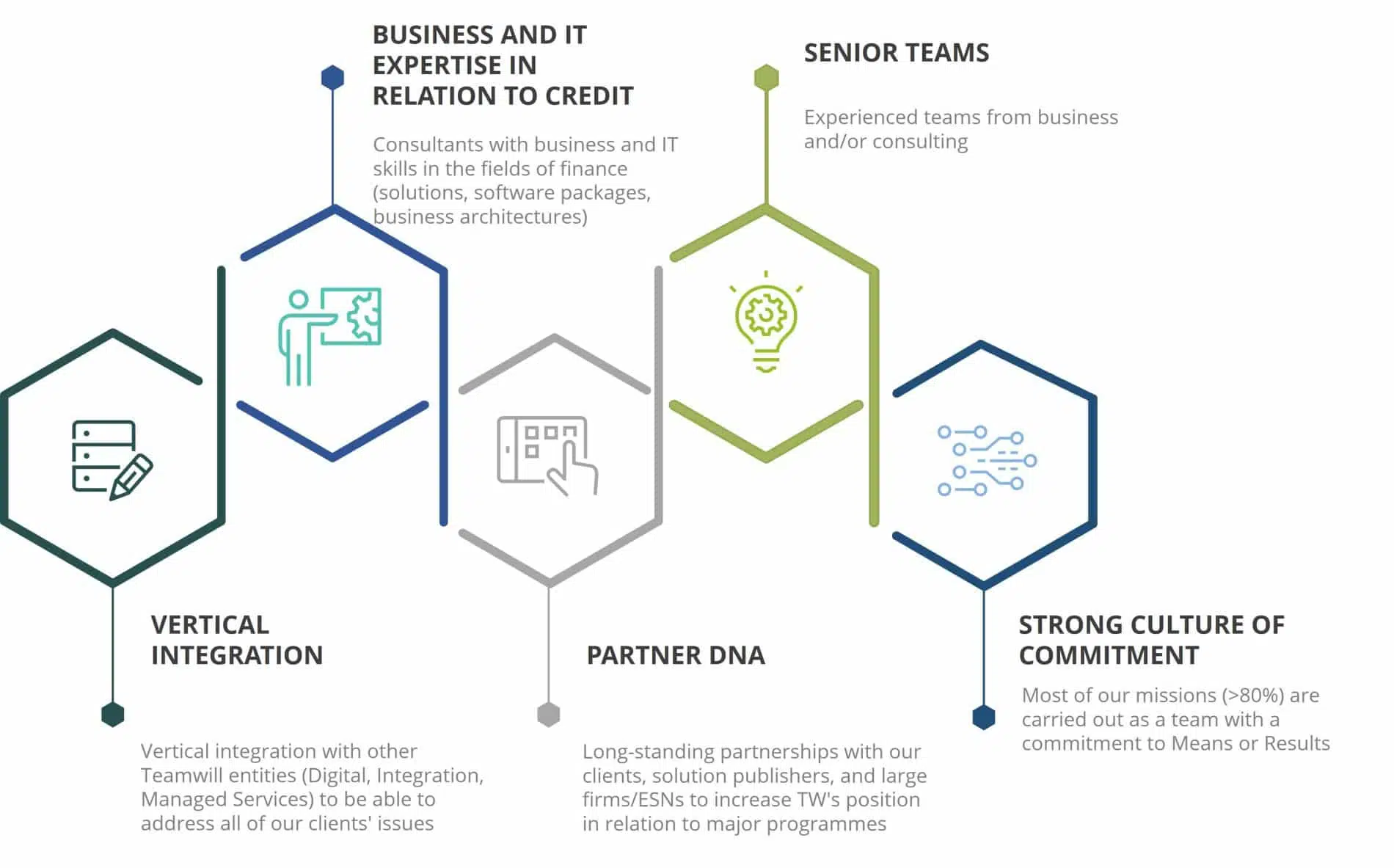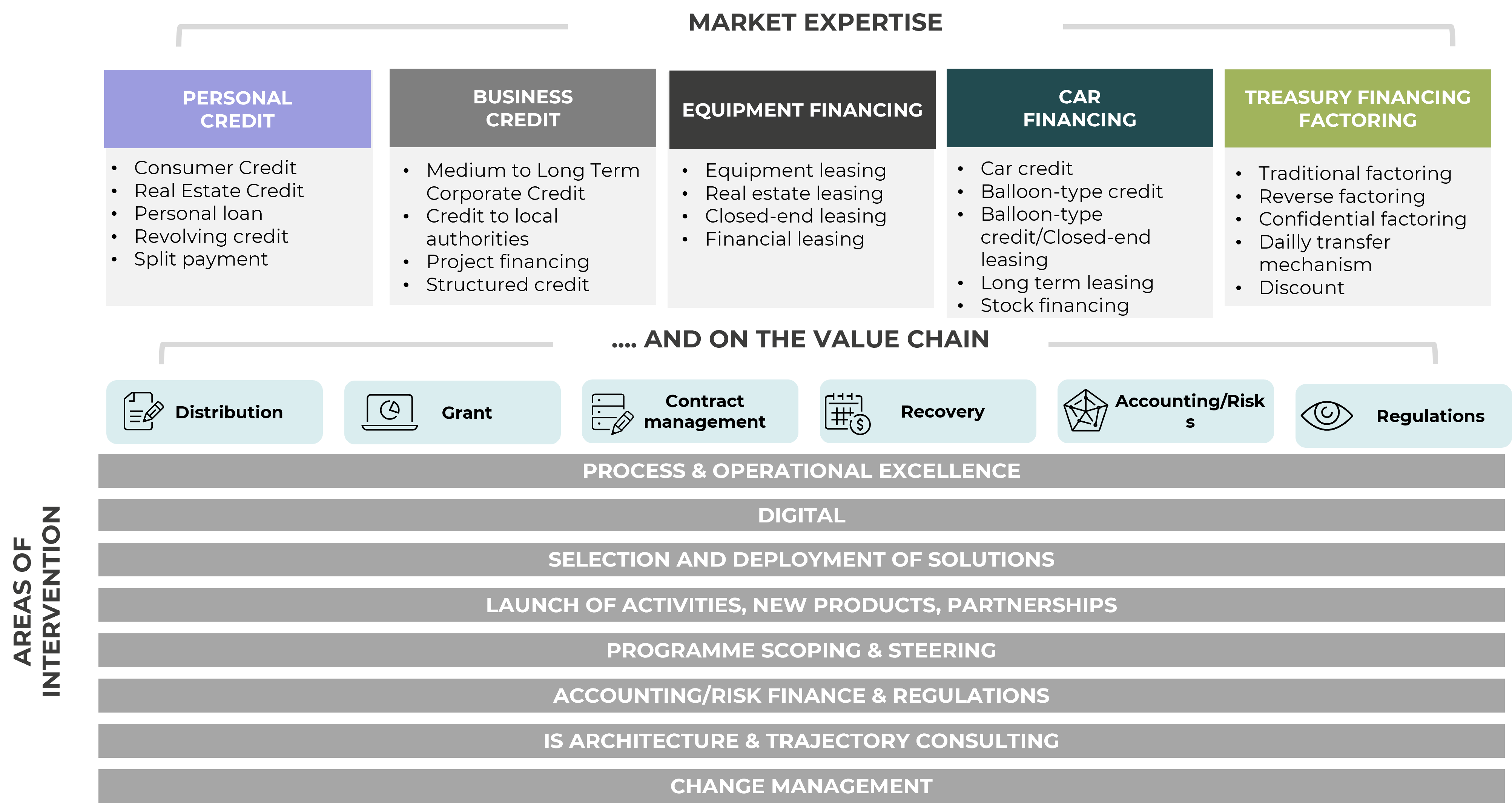 Our areas of intervention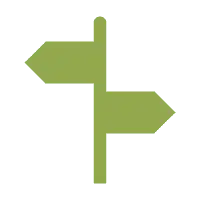 Selection of software packages
Benchmark
RFI/RFP process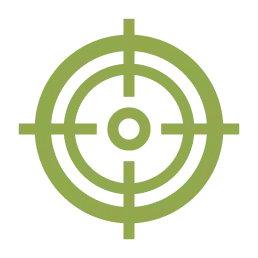 Scoping/IS processes
Feasibility study/Scoping
Definition of IS trajectory
Merger/Migration/Switching

Process Optimisation
Modelling
Process Optimisation
Robotic Process Automation (RPA)

Digitalisation
Client journey
Process
EDM/Electronic signature

IS Masterplan
Existing/Needs
Target and IS Trajectory
Project Plan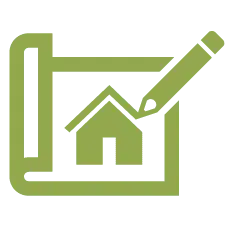 Architectural consultancy
Functional/application architecture
IS integration scenario

Steering Programme
Programme management PO/PM – PMO
Programme Management Team
Project Audit
Homologation/Testing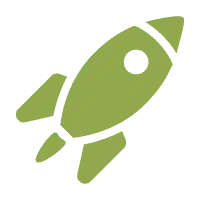 Activities/product launch
Product features
Operational model
Processes and tools
IS implementation
Deployment/Change management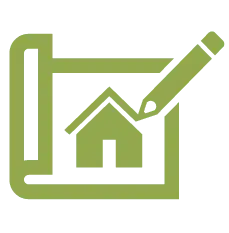 Business Support/Project Management
Specifications
Approval
Portfolio migration
Change management
User support
Sharing success, together
Framework and implementation of a Credit BPO Missions Scoping stage (6 months): Definition of the detailed characteristics ...

The context: The client is one of the leaders in the automotive finance sector, operating in more than ...